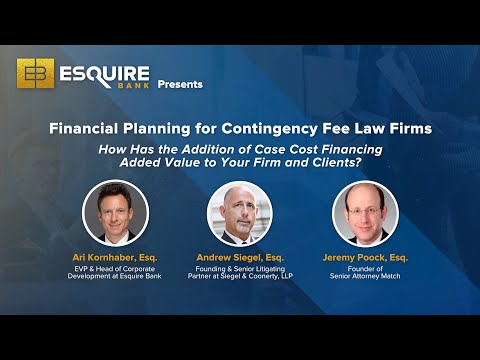 Finance 
The Added Value of Case Cost Financing for Both You and Your Client
When you're self-funding case expenses, defending your client against a corporate goliath can sometimes feel like putting the livelihood of your firm on the line. Well-funded corporations and insurance companies don't hesitate to spend money on top-notch expert witnesses and neither should you. In this video, Andrew Siegel of Siegel & Coonerty frankly explains the tightrope law firms must walk when self-funding case costs and the freedom that comes from financing those same expenses....
Sign In or Register to View All Content
Sign in to gain access to our entire database of articles, videos and case studies.
Don't have an account? Register now and receive:
Free access to an ever-growing database of educational content and expert insights
Content from all areas of law firm management
The resources to develop your skills in marketing, accounting and more
Expert advice in the form of webinars, case studies and articles
Register
Log In